Profiles of Jewish GI's: Harry I. Fingerroth
Harry I. Fingerroth was born on March 26, 1918, in New York City, NY. After high school, Harry attended Brooklyn College and was drafted into the U.S. Army in February 1941. He attended basic training and was then assigned to the 22nd Infantry Medical Detachment, 4th Infantry Division, in Fort Benning, GA. Technician Third Grade Fingerroth participated in the campaigns of Ardennes, Central Europe, Normandy, Northern France, and the Rhineland.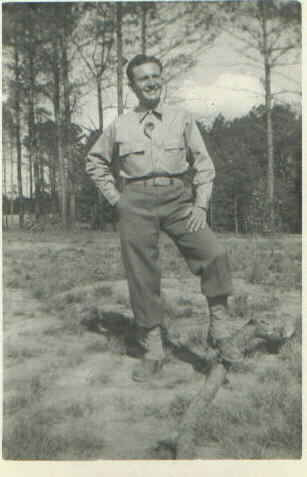 Harry Fingerroth poses for a shot in June 1941, in Fort Benning, GA.
Fingerroth served as a combat medic during World War II, and he was even wounded in action. Harry was wounded under his chin by shrapnell, but he refused to accept a Purple Heart, because he felt the wounded soldiers that he was treating were even more badly wounded than he, and that they deserved the medal more than he did. Another reason why he refused to accept the Purple Heart was that he did not want the Army to notify his parents about his injury.
As a combat medic, Fingerroth had a Red Cross painted on the back of his helmet. Unfortunately, German snipers were known to target medics by looking for Red Crosses. Consequently, Harry and the other medics covered the Crosses with mud or scraped them off. U.S. combat medics were required to treat not only U.S. casualties but also German casualties. Harry tells of another Jewish medic in his unit, Jacob Brill, who used to tell the wounded Nazis, "We are now giving you Jewish blood!" as he gave them blood plasma. To this day, Harry still has a Nazi SS officer's sword that he took from a wounded SS officer whom he was forced to treat.
For his participation in the D-Day invasion, Harry received a Bronze Arrowhead. His other citations include: a Presidential Unit Citation, EAME (European-African-Middle Eastern) Campaign Medal with five Battle Stars, three Bronze Stars, American Defense Service Medal, American Campaign Medal, World War II Victory Medal, Combat Medical Badge, and a Good Conduct Medal.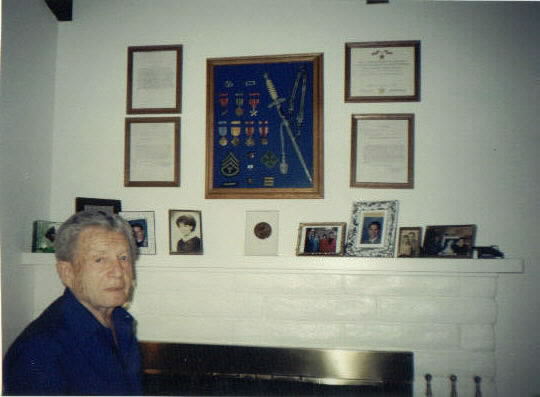 Harry Fingerroth stands in front of a frame on the wall that includes his medals and the sword that he took from a wounded Nazi SS officer.
Harry married his wife, Ann, while he was in the service. In August 1945, he was honorably discharged. The Fingerroths have two daughters and one grandson. Fingerroth was also Commander of Jewish War Veterans Post # 603. In his spare time, he enjoys volunteering at two VA (Veterans Administration) Hospitals.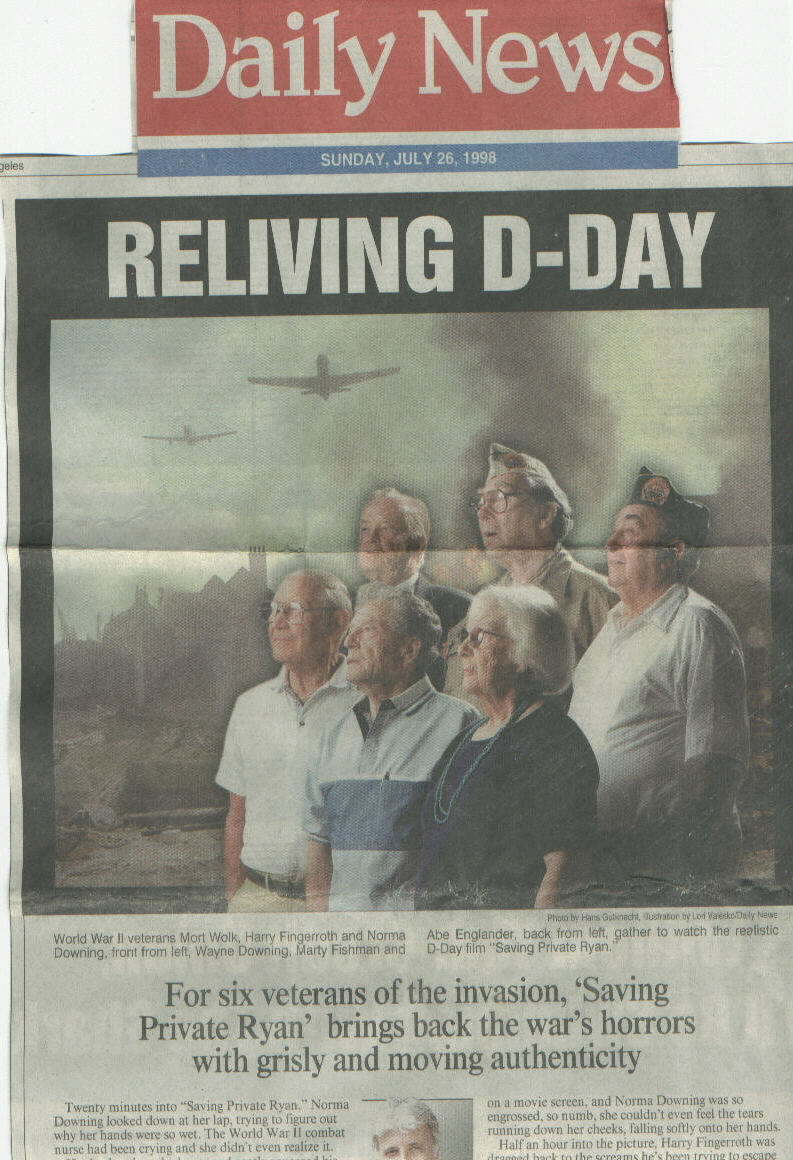 Fingerroth appears on the front page of the Daily News (7.26.98), along with some other veterans who participated in D-Day.
Back to Profiles
Home