Profiles of Jewish GI's: David "Mickey" Marcus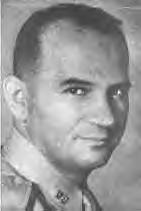 Col. David "Mickey" Marcus
David "Mickey" Marcus was a Jewish GI. What makes him unique is that he fought for the U.S. and the Israeli army, becoming a high-ranking officer in both armies.
David "Mickey" Marcus was born in Brooklyn, New York, in 1902. He was accepted to West Point in 1920. Mickey then completed his required service in the U.S. Army. In the 1930s, Marcus was a Federal attorney in New York.
In 1940, Mickey re-enlisted in the U.S. Army. In 1942, Marcus was named commandant of the U.S. Army's Ranger School. On the eve of D-Day, Marcus parachuted into Normandy with the 101st Airborne Division.
In 1947, Col. Marcus was discharged from the U.S. Army. Shortly after his discharge, Marcus was contacted by the Haganah (Israel's underground army). He was asked to help train Israeli soldiers for battle against the Arab armies, during Israel's War of Independence in 1948. Under the alias of "Michael Stone", Marcus help the fledgling state form and train its army.
Col. Marcus was appointed a Lieutenant General by Israeli Prime Minister David Ben-Gurion in 1948, thus becoming Israel's first Jewish general in almost two thousand years. A few hours before the Israel-Arab cease-fire began, Mickey was killed by an Israeli sentry near Jerusalem. Mickey was unable to respond to the sentry's warnings, because he didn't speak Hebrew. When he wouldn't answer the Israeli sentry, he was shot dead.
Col. Marcus' body was flown back to the United States for burial. Mickey is buried at the cemetery at West Point.
Back to Profiles
Home